Aubergines with Mushrooms and Crayfish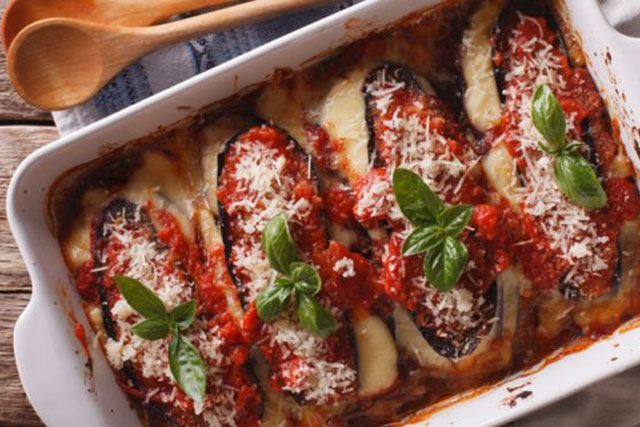 Ingredients (6 servings)
30 ml (approx 2 tablespoons) of olive oil
3 medium-sized aubergines
500 g (approx. 1 lb) of cooked crayfish
250 g (approx. 0.55 lb) of mushrooms
1 large onion
30 g (approx 2 tablespoons) of tomato sauce
230 ml (approx 1 cup) of brandy
Salt
Pepper
Parmesan cheese, grated
For the béchamel sauce:
Butter, plain flour, stock of the crayfish heads, shells and fish bones.
Follow the steps in our recipe to enjoy an unforgettable aubergines with mushrooms and crayfish dish.
Aubergines with Mushrooms and Crayfish Recipe
Preparation Time
15 min
Cooking Time
10 min
Level
Easy
Servings
6
Calories
928 kcal
Allergens, Diabetic, Gluten Information
Gluten free
How to make Aubergines with Mushrooms and Crayfish step by step
STEP1: Peel the crayfish and mince the meat of the tails. Reserve the heads and shells and prepare a stock adding some fish bones.
STEP2: Fry the onion in the olive oil until translucent. Add the sliced mushrooms and cook, stirring, until most of the liquid given off by the mushrooms has evaporated and the mushrooms are tender. Add the minced crayfish tail meat, the fried tomato, the brandy, the salt and the pepper.
STEP3: Cut the aubergines into thick slices of about ½ cm. Place the flour and salt in a bowl, and coat the aubergines in it. Deep-fry the aubergines in the hot oil until golden. Remove with a slotted spoon and drain on kitchen paper.
STEP4: Place the half of the fried aubergines on an oven tray and drizzle with olive oil. Place the crayfish-mushroom mixture on top and cover with another layer of fried aubergines.
STEP5: Prepare the béchamel sauce with the indicated ingredients and spread on top.
STEP6: Sprinkle with parmesan cheese and grill the dish for 5-7 minutes until the cheese is golden brown.
To make the béchamel sauce, melt the butter in a non-stick pan and stir in the flour. Take off the heat and gradually stir in the crayfish stock. Return the pan to the heat and stir continuously until the sauce thickens. Simmer over a gentle heat for 5-8 minutes.
more Crayfish recipes