Poulet Aux Écrevisses (Chicken Fricasse with Crayfish)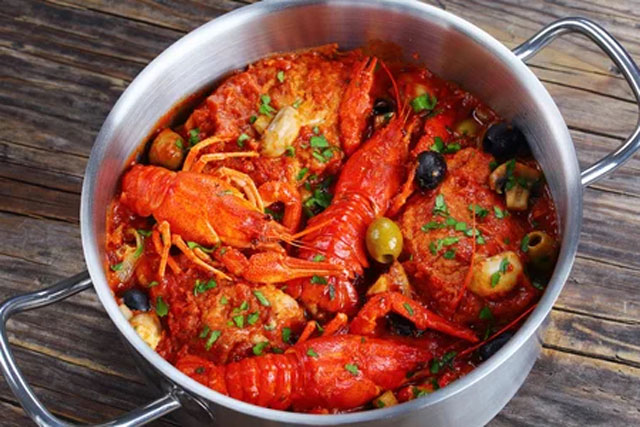 Ingredients (4 servings)
2 kg (approx 4.4 lbs) chicken, portioned
60 g (approx 2 ounces) of butter
3 shallots, minced
2 carrots, diced
1 diced onion
3 garlic cloves, crushed
30 ml (approx 2 tablespoons) of Cognac
120 ml (approx ½ cup) of dry white wine
30 ml (approx 2 tablespoons) of tomato puree
200 ml (approx1 cup) of chicken stock
60 ml (approx ¼ cup) of crème fraiche
120 ml (approx ½ cup) of torn fresh basil
Follow the steps in our recipe to enjoy an unforgettable Poulet aux écrevisses (Chicken fricasse with crayfish) dish.
Poulet Aux Écrevisses (Chicken Fricasse with Crayfish) Recipe
Preparation Time
15 min
Cooking Time
55 min
Level
Easy
Servings
4
Calories
426 kcal
Allergens, Diabetic, Gluten Information
Gluten free
How to make Poulet Aux Écrevisses (Chicken Fricasse with Crayfish) step by step
STEP1: Heat the butter and the oil in a heavy sauté pan over medium-high heat. Sauté the chicken pieces in 2 batches, browning well on all sides. Season with salt and pepper, remove and set aside.
STEP2: Add the shallots, carrots, onion and garlic. Sauté 10 minutes over low heat. Turn the heat again to medium-high and add the crayfish and flame them with the cognac. When the flame dies away, add the wine and the tomato paste. Scrape the bottom of the pan well to loosen any coagulated cooking juices. Reduce heat to medium. Let the crayfish cook for 5 minutes partially covered. Remove them and set aside.
STEP3: Return the chicken to the pan. Add the chicken stock and simmer for 35 minutes. While the chicken is cooking, remove the crayfish tails and peel them. Remove the black vein in the tails and reserve 6 crayfish heads for garnish.
STEP4: When the chicken is tender, transfer it to a warm platter and keep it warm. Skim any fat off the cooking liquid. Strain the juices through a fine sieve, pressing on the solids. Return the juices to the pan and add the heavy cream and basil. Let simmer for 5 minutes. Return the chicken to the pan to reheat gently. Add the crayfish tails just before serving. Serve each chicken portion with 4 crayfish tails. Garnish the plates with the reserved crayfish heads.
more Crayfish recipes