Crawfish Boil (with cooked Crawfish)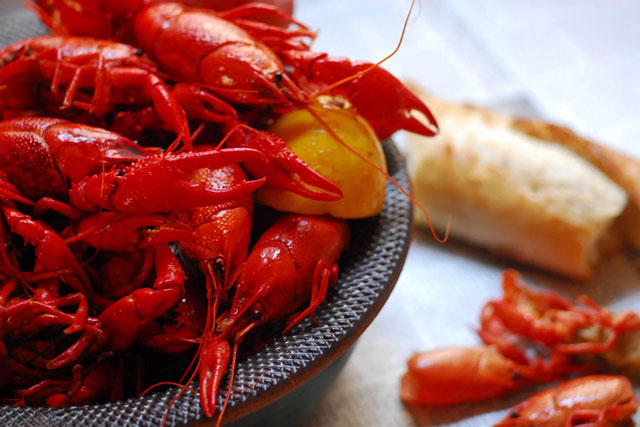 Ingredients (3 servings)
Around 1.3 kg (3 lbs) of whole cooked crawfish
4 lemons
4 oranges (optional)
12 unpeeled garlic cloves
6 cobs of corn, broken in half
300 g (0.66 lb) of sausage (andouille type) cut in pieces
8 whole small red potatoes cut in half
4 small onions
5 g cayenne pepper (approx 1 teaspoon)
5 g garlic powder (approx 1 teaspoon)
5 g onion powder (approx 1 teaspoon)
5 g black pepper (approx 1 teaspoon)
5 bay leaves
10 g (approx 2 teaspoons) of salt
Follow the steps in our recipe to enjoy an unforgettable crayfish boil (with cooked Crawfish) dish.
Crawfish Boil (with cooked Crawfish) Recipe
Preparation Time
20 min
Cooking Time
40 min
Level
Easy
Servings
3
Calories
317 kcal
Allergens, Diabetic, Gluten Information
Gluten free
How to make Crawfish Boil (with cooked Crawfish) step by step
STEP1: Fill up a large pot with about 1/3 of water. Add the garlic, bay leaves, salt, cayenne pepper, black pepper, garlic and onion powder, lemons, oranges and potatoes. Cover the pot and bring to a boil with high heat, then reduce to a simmer and cook for 20 minutes.
STEP2: Add the corn, onions and sausages and cook for 5 minutes with the pot covered.
STEP3: Add the whole cooked crawfish, turn off the heat, cover the pot and let for soak for 5-10 minutes.
STEP4: Use a slotted spoon to transfer the crawfish, sausage, and vegetables to a large platter and enjoy!
more Crayfish recipes