Crawfish Étouffée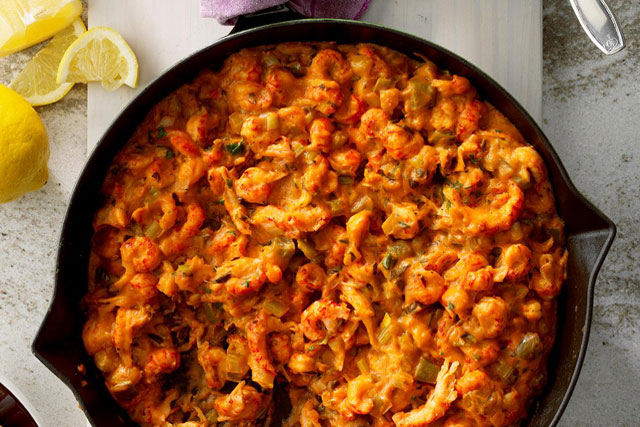 Ingredients (6 servings)
1 small bell pepper, diced
80 ml (approx 1/3 cup) of olive oil
57 g (approx 4 tablespoons) of butter
30 g (1/4 cup) of flour
1 medium onion, chopped
2 cloves garlic, minced
1 can of tomatoes (approx 400 g)
60 ml (approx 1/4 cup) of beer
Sprinkle of cajun spice
2.5 g (approx 1/2 teaspoon) of basil
1.25 g (approx 1/4 teaspoon) of thyme
1 bay leaf
Nutmeg to taste
Freshly ground black pepper
450 g (approx 1 lb) of crayfish tails
Follow the steps in our recipe to enjoy an unforgettable crawfish étouffée
Crawfish Étouffée Recipe
Preparation Time
15 min
Cooking Time
50 min
Level
Easy
Servings
6
Calories
250 kcal
Allergens, Diabetic, Gluten Information
Flour & Beer
How to make Crawfish Étouffée step by step
STEP1: Prepare the roux: Heat oil in a heavy skillet until hot. Gradually stir in the flour and stir constantly until the mixture turns brown. Be very careful as you don't want to burn the roux.
STEP2: Sauté the onions, garlic, celery, and bell pepper in the roux for 5 minutes.
STEP3: Add the tomatoes, stock, basil, thyme, and bay leaf. Bring to a boil, stirring constantly. Reduce the heat and simmer for 15 minutes or until it thickens to a sauce.
STEP4: Add the crayfish and simmer for an additional 5 minutes or until the crayfish are cooked. Remove the bay leaf and serve.
STEP5: For the inexperienced, making the roux can be tricky … be sure to stir the roux constantly or it will burn. "You can't stir the roux too much" Cook the roux until it turns brown or darker.
STEP6: Serve over cooked rice.
more Crayfish recipes