Crayfish Risotto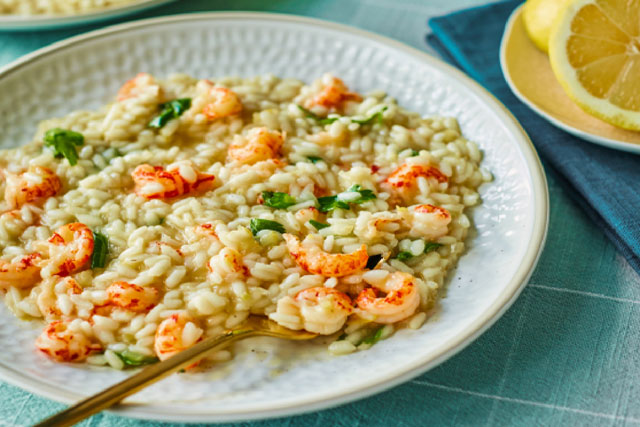 Ingredients (4 servings)
15 ml (approx 1 tablespoon) of olive oil
2 shallots, finely diced
2 garlic cloves, finely chopped
3 sprigs of thyme
400 g (approx 2 cups) of rice
200 g (approx 0.45 lb) of crayfish tails
175 ml (3/4 cup) of white wine
1 l. (approx. 4 cups) of chicken or vegetable stock, warmed
115 g (approx 8 tablespoons) of butter
Squeeze of lemon juice
40 g (approx 1/2 cup) of Parmigiano cheese
40 g (approx 1/2 cup) of mascarpone cheese
15 ml (approx 1 tablespoon) of finely chopped parsley
Salt and freshly ground black pepper
4 sprigs of chervil, to garnish
Follow the steps in our recipe to enjoy an unforgettable crayfish risotto dish.
Crayfish Risotto Recipe
Preparation Time
15 min
Cooking Time
40 min
Level
Easy
Servings
4
Calories
356 kcal
Allergens, Diabetic, Gluten Information
Gluten free
How to make "Crayfish Risotto" step by step
STEP1: Heat the olive oil in a heavy-based saucepan over a medium heat. Add the shallots, garlic and thyme and sweat for 1 minute, without coloring. Add the rice and sweat for 30 seconds. Pour in the wine and cook until it is absorbed. Add 1 ladleful of stock and cook, stirring constantly, until absorbed. Continue adding the stock, ladle by ladle, until all has been absorbed. This should take about 20 minutes. The rice should be cooked to the point of being al dente.
STEP2: Melt 25 g of the butter in a separate saucepan, add the crayfish and toss the pan for 30 seconds. Add a squeeze of the lemon juice to taste.
STEP3: Add half of the crayfish to the risotto, reserving the other half for the garnish, and stir. Remove from the heat, add the Parmigiano, the mascarpone and the remaining butter and stir until the butter has melted. Add the parsley and season.
STEP4: Divide the risotto between four warmed serving bowls, garnish with the reserved crayfish and a sprig of chervil and serve.
more "Crayfish" recipes